Earth Day - April 22, 2002

---
---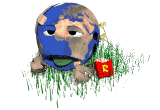 Our planet is sick and needs everyone's help to make it better. This day is celebrated around the world. Humans come together for one day regardless of race, color, or beliefs and have a united front to help the planet which we live on. We are responsible the state the planet is in and only we can do something about it. Join in and participate in something that is so important!

---

April 20, 2002 10:00 a.m. - 3:00 p.m.
Plan ahead and join the Newport Bay Naturalists & Friends on shellmaker Island for a day O family activities, musical entertainment, water tours, shark touch tanks, and refreshments. All activities are free. For additional information call: (949) 640-6746. Location code: MSC
Do something for your environment. It's yours and it is something you can pass on to your kids. Be proud that you helped!

---

April 20, 2002
Riley Wilderness Park Wildflower Walk. the early wildflowers spread a colorful palette of color along the trails. While you enjoy the beautiful sites that nature can offer pick up some trash. Time: 9:00 am to 10:30 am. Parking $2.00. (949) 459-1687

---

April 20, 2002
Orange County Zoo Springtime Celebration. Join us in celebrating spring. There will be a shepp shearing demonstration, wool weaving and spinning demonstration. Arts and Crafts, and face painting. Time: 10:00 am to 2:00 pm. (714) 633-2022. Parking $4.00 per vehicle.

---

Check you local newspaper for more activities or come up with one of your own.